Our exclusive mattresses
for your best sleep ever
We heard you. No mattress has been able to live up to your dreams. So we set out to create your perfect mattress ourselves and customized each layer to be tailored exactly to your sleep and well-being. Nothing more, nothing less.
NEW!
Dream Mattress Studio Collection
When the mattress really matters choose from our exclusive Dream and Beautyrest styles designed to do extraordinary things.
NEW!
dream–in–a–box mattresses
Four styles, ready to go home asap. (Think second bedrooms, kids' rooms, and more!)
the dream is real...
read all the buzz
average customer review rating

4.8

out of

5

stars
of
Great Mattress / Sleeping Better Than I Have In A Long Time!
Wow - I never thought I would like a soft mattress - but this one is amazing. I am a side and back sleeper. This mattress offers great support and molds to your body. I am sleeping better and I am not tossing and turning like I used to on my old, firm style, mattress...Note: - This is a thick mattress - so you need the extra-deep pocketed sheets. And if you are short like me (5'4"), you might want a lower profile box spring.
Best Mattress Ever
I have no complaints about this product. Most comfortable mattress I have ever slept on and I am sleeping much better. You don't feel motion from moving around at night and I wake up less often. My experience with all associates at Value City has always been very professional.
Dream Boat
This is a dream mattress. I fall asleep so quickly on it, it is firm yet molds to my body so well.

It's the perfect medium firmness mattress!
Best Sleep In Years
This mattress replaced my old 15+ year old mattress. In the past, i would toss and turn all night, wake with back pain that would last all day, and it seemed to take half of the night to find a comfortable spot. The first night on this new mattress was incredible. It was firm yet had just the right amount of plush comfort. The support it gives has erased any back pain and any tossing and turning...I love a soft mattress, while my partner loves a firm mattress, and we both sleep soundly on this every night. A great mix of support and cushion. Truly an incredible mattress that i would not hesitate to purchase again when the time comes. The delivery process was simple and easy, and actually came earlier than expected (bonus!). The delivery crew unpacked and placed the mattress in minutes and had cleaned up all of the packing materials and were on their way in under 10 minutes. Would highly recommend purchasing your next mattress here.
Great bed and helped me sleep better
Awesome bed! Very comfortable and I find myself sleeping better than I have in the past. If you are looking for a new mattress, this is the way to go. Nothing but good things to say about the comfort and the shopping expereince
Love my new firm mattress
I was never a specific mattress style buyer -- I would typically buy a mattress that was on sale. This was the first time I looked for a specific "firm" mattress and was incredibly pleased with the product.
Dream Revive Soft Mattress = Best Sleep Ever!
This mattress is hands down the best sleep I have ever had. I play a lot of golf and have back problems which means I need a mattress that cradles me yet doesn't make me feel like I am in quick sand. I have tried almost every mattress on the market from ALL of the major brands and none of them can come close to this one...Best yet, I don't wake up stiff or sore but instead I am refreshed and revived, I only wish this mattress was available years ago!
The perfect mix of plush and firm
I love the look of the mattress, it has a beautiful plush padded top and is quite tall in the king size when including the box spring. We've been sleeping on the mattress for about 2 months now and I am enjoying it more every night. It's becoming a bit softer over time, which I like...My partner enjoys the firmness as well being that he is prone to back issues. Our previous mattress was a memory foam and I definitely find our new mattress more supportive and comfortable.
how do you find your perfect mattress match?
let's talk comfort
choose from 3 comfort levels
soft = lots of give
Cushiony comfort
(without that sinking feeling)
Compresses easily to the touch.
medium = some give
The best of soft and firm comfort
(moderate sink-in)
firm = little give
Substantial comfort (with minimal sink-in).
Recovers quickly from contact.
choose from 5 support levels

least support
Minimum coils and foam layers

less support
Additional coils and foam layers

some support
Extra coils and foam layers
more support
Extensive coils and foam layers

MOST support
Maximum amount of coils and foam layers
what's your cool factor?
choose from 5 coolness levels

coolness
Draws heat away upon initial contact

extended coolness
Draws heat away even longer

extended coolness +
Draws heat away even longer

lasting coolness
Continuously draws heat away

lasting coolness +
Continuously draws heat away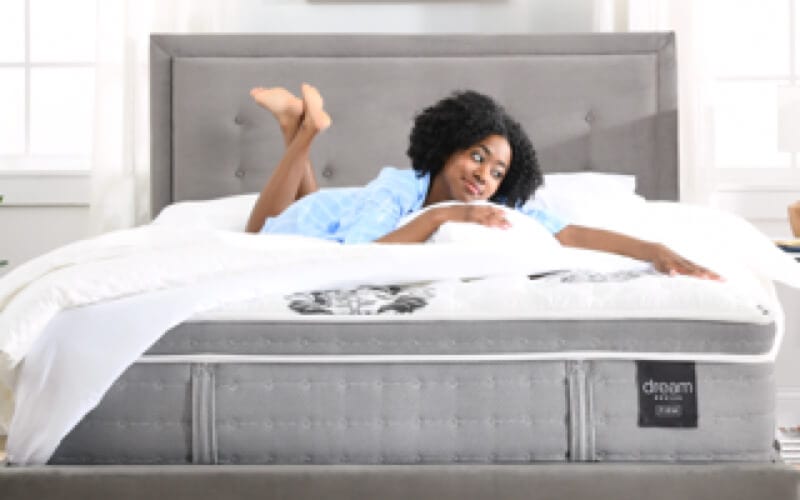 our dream
mattress studio is designed to do extraordinary things
reclaim your sleep: deep, uninterrupted, restorative
improve your well-being: mind, body, and mood
return you to life: a total dream come true