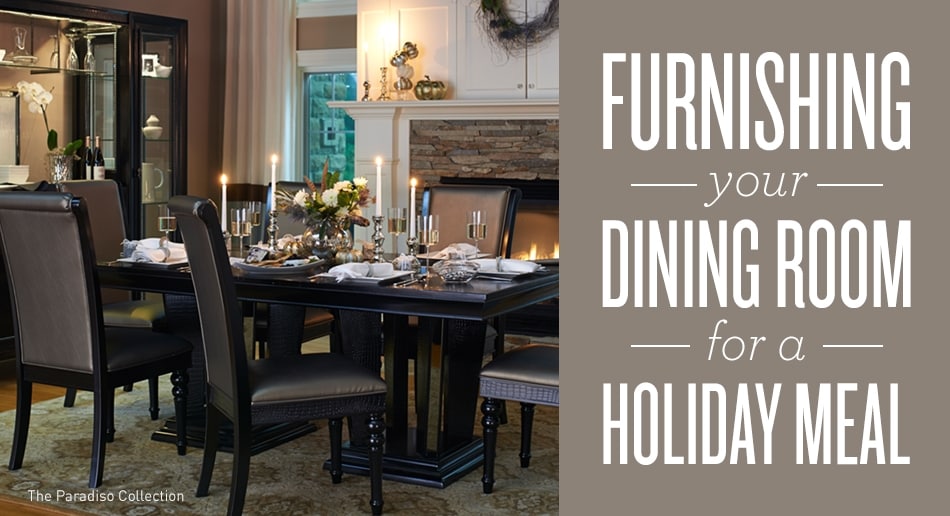 Season's greetings! The hustle and bustle of the holiday season is upon us and that means it's time to get your dining room ready for the big feast. But as you stare into your empty dining room, you instantly regret sending out the invitations. Remain calm. We know that choosing the right furniture is important to you and we want to help you pick pieces you can enjoy for years to come. Furnishing your dining room for your holiday meal may seem overwhelming at first, but we can help make the process easy.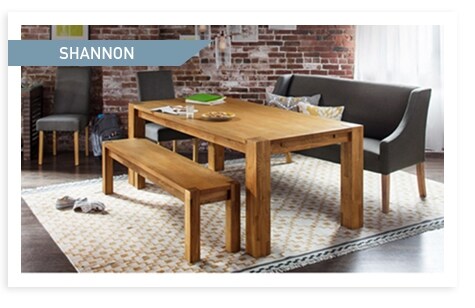 The Table
The table is the focal point of a dining room. Pick a table that reflects your personal style, but also suits your hosting needs.
Have an odd number of guests? Squeeze the kids onto the bench — they'll love graduating from the kids' table. A lot of contemporary dining sets have benches instead of chairs. Benches allow for some wiggle room so you can fit extra people around the table.
Round dining tables are a smart choice for smaller dining rooms. You can sit a large number of people at a round dining table without having to worry about the length of your dining room. Cut corners literally, not figuratively.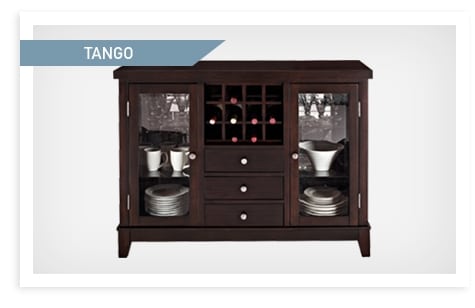 The Storage
Platters, pie servers and china — oh my! Dining rooms aren't complete without adequate, stylish storage.
Buffets and sideboards are a key ingredient to a fully furnished dining room. You can pick one that shows off your grandmother's crystal collection, or one that neatly tucks everything away. We carry an array of different styles from rustic to modern and everything in between, so you can find the perfect addition to your new dining room.
When choosing storage, consider the depth of the piece. You want to be able to fit your platters but you don't want to crowd your seating area. Aim to have 36 inches between your storage pieces and dining chairs.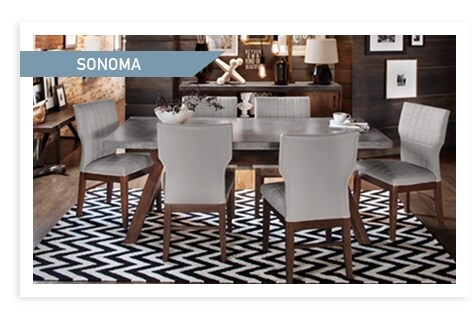 The Rug
Add a rug underneath your table for an extra level of style and comfort. A rug can bring the décor together and create an inviting atmosphere.
Always place your furniture in a room before choosing the rug. This will help you determine the colors you want and what size rug to get.
Your rug should be roughly two feet larger than your dining room table, on all sides, to ensure you have enough room to pull your chairs out. A standard dining room rug is at least 8 feet wide. Our rug selection is bursting with rich patterns and colors that will give your dining room that extra oomph.
The Lighting
What good is having a gorgeous dining room if you can't enjoy it once the sun goes down? Good lighting is a must-have.
When picking a chandelier, consider your ceiling height. In a room with a ceiling height of 8 feet, hang a chandelier 30 to 34 inches above the table.
If your ceiling is higher than 8 feet, add 3 inches to the distance between your light and table for every additional foot. For example, if your ceiling is 9 feet high, hang a chandelier 33 to 37 inches above the table.
With the table, storage, rug, and lighting all squared away, you can check "furnish the dining room" off your to-do list. Now you just have to call your mom and ask for the family recipes. You want to make a meal that tastes as good as your dining room looks — perfect.